This year on St. Croix, holiday cheer has more than one meaning. In addition to the spirit of the season, daily we see fellow islanders cheering when their power is restored! WAPA and Governor Mapp are steadfast on their goal of 90% restoration by Christmas (they're at 50% now).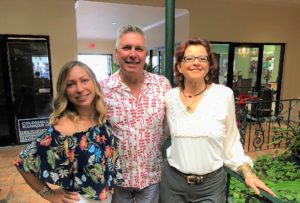 We're delighted to welcome Stephanie Schoyer to Team Fedeles. She and I have a long history as friends and colleagues, and she has an even longer history with St. Croix. Her knowledge of the island and experience as a professional photographer will be wonderful assets to our team.
On November 30, we closed on the sale of the King Christian and Company House Hotels. The properties are part of the Caravelle Hotel & Casino's commitment to the revitalization of downtown Christiansted. We're looking forward to seeing their renovations over the course of the next year.
American Airlines is expanding their service to St. Croix. Effective December 15 there will be two daily flights from Miami.
So, as you can see, no hurricane can take away our holiday cheer. Thank you for being part of our year-round cheer through your business and referrals. Wishing you a lovely holiday and the very best in 2018!