Love is in the air. Last week's Valentine's Day Jump Up was filled with wonderful energy, bustling vendors, fantastic music, and smiling people. The island's many top-notch restaurants are serving special menus featuring wine pairings and tantalizing desserts. Our friend Wendy of GoToStCroix.com recently shared her love letter to St. Croix and is encouraging others to share what they love about St. Croix on Facebook this month.
Speaking of our incredible restaurants, St. Croix was included on Caribbean Journal's list of The 18 Best Islands to Visit in the Caribbean in 2018, in large part due to our food scene. The feature mentions some of our favorites, like Zion Modern Kitchen, Uptown Eatery and Savant, as well as a shout out to The Fred. Caribbean Journal also showcased The Fred in The Renaissance of Frederiksted, St. Croix.
David spent a few days in January in San Juan for the Region 5 REALTOR Leadership Conference. He was inspired by Elena Delgado of the Puerto Rico Association of Realtors who talked about our resilience persevering through Hurricanes Irma and Maria. The state leaders prepared more than 50,000 meals that were delivered to families in the mountains where they are still without power or water.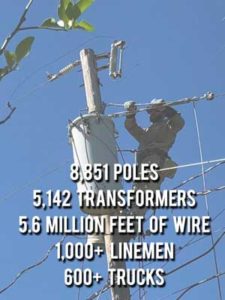 In early January, the New York Times ran an article with the headline: Power Is Restored to Most of U.S. Virgin Islands After Hurricanes, Officials Say. The article had some fascinating statistics about power recovery. The background photo here is of Keith from Atlantic City, the lineman who restored power to David's house!
If you follow us on Facebook, you've seen that we've had some fabulous new listings hit the market. If you've been thinking about selling, now is a good time as buyers are eager to see new inventory and, as you'll see on the Market Watch below, homes are selling for more compared to last year.
Finally, if you're planning your next visit to St. Croix, check out the St. Croix Calendar for where the fun is on island. Coldwell Banker St. Croix Realty recently took over the calendar. You can even subscribe to receive weekly emails listing upcoming events.
Warm regards,
The Fedeles Team