Some days it's meeting really wonderful people. Some days it's seeing beautiful beachfront homes. Some days it's spending a fast-paced day with a buyer looking at ocean view condos. Other days it's meeting with a seller to learn about the features they love most about their home.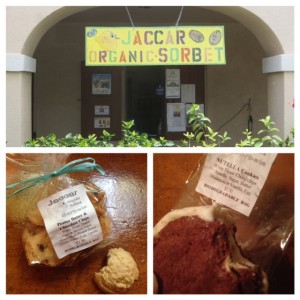 And some days it's simply being down the way from Jaccar Organic and Natural Sorbet! Today we went down for their seasonal Crucian Pumpkin homemade gelato. And some peanut butter chocolate chip cookies and a Nutella cookie and gelato sandwich to take home.
Jaccar Organic and Natural Sorbet is located in Gallow's Bay, literally down the sidewalk from Coldwell Banker St. Croix Realty's office. Check them out on Facebook.
There are so many treats scattered over St. Croix, making our island more than a tropical paradise. Maybe we'll have to celebrate closing on your home with a locally-made cup of organic sorbet!