For those of you who know me, you know the Arts are near and dear to my heart. I have known Sonja Dickerson-Faust, owner and instructor of Pointe Dance Academy, for nearly my entire time on St. Croix. The Academy has been part of the St. Croix Arts community for 25 years — and the fall semester of classes started this week!
The only accredited ballet school in the Virgin Islands, Pointe Dance Academy offers classes for all age levels. Curriculum includes open classes in the Bournonville and Russian Imperial methods, as well as Syllabus classes in the Cecchetti method. Pointe Dance Academy is a member of the Cecchetti Imperial Society of Teachers of Dance and Cecchetti USA. Sonja has had many students here on island take the international set standard exams, including a group this year who passed with flying colors!
In addition to her extensive ballet training, Sonja's Pilates certifications include second generation by Lolita San Miguel and Polestar Pilates in mat with props, studio and allegro.
Pointe Dance Academy is a 501c3 nonprofit. Programs are partially funded by the Virgin Islands Council on the Arts and the National Endowment for the Arts. With Federal Arts funding being cut, the Academy is hopeful to find new ways to sustain their arts education programming.
The best way to support Pointe Dance Academy and the Arts on St. Croix is to participate! Ballet and Creative Movement classes are available for children age 3 through adult. And Pilates classes are available six days a week ($15/class).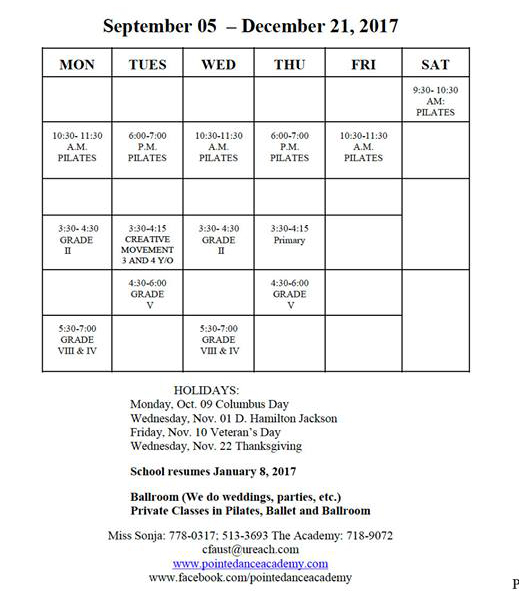 As a nonprofit, Pointe Dance Academy also graciously accepts donations. If you've ever enjoyed one of their Nutcracker or Spring Gala performances, consider supporting this important component of the Arts in St. Croix!
For more information:
Pointe Dance Academy Facebook
Phone: 340-718-9072