Dave and Kathy Cecil first vacationed on St. Croix in the late 1980's and loved it then. That's what eventually led them to buy a condo at The Reef where they have been enjoying the snowbird lifestyle for four years. Now their immaculate 2 bedroom/2bath end unit is on the market.
So why St. Croix?
It's a U.S. Territory, English is spoken here, we're on the U.S. monetary system and can use USPS for shipping items to or from the island. St. Croix has beautiful weather available almost 365 days a year, beautiful beaches and good food."
And why a Condo at The Reef?
We were on vacation here on the property, this unit was for sale, the rest is history! We especially appreciate the security and friendly community environment. Plus, the amenities: golf, a pool, the beach, modern utility systems on property, and excellent dining options."
The Cecil's even say that the Dish TV, Internet and cellular are all better than at home in Wisconsin! The Reef community also has its own sewage treatment plant and reverse osmosis water treatment facility.
The Reef is constructed of concrete block. Dave shared that, "Hurricane Maria caused no damage. We weren't on Island and communications with community neighbors about Maria provided good information."
The Reef is an East End gated community with 101 tiered condos. Community amenities include a 9-hole golf course with Pro Shop, a fresh water swimming pool, tennis courts, and a sandy beach in the reef-protected Caribbean. Duggan's Reef restaurant is in front of the community right on the beach. Dave gets a kick out of the fact that Frank Duggan, the restaurant's owner, used to bartend at the Bull & Finch Pub in Boston, home of 1980's TV series, Cheers. Like the Cheers theme song, The Reef is a close, friendly community Where Everybody Knows Your Name.
Dave and Kathy enjoy the turquoise blue Caribbean Sea and amazing sunrises most every morning. The night view is relaxing just watching the cruise ship lights. During our recent chat, Kathy shared that, "The Golden Trumpet tree at our patio is in full bloom! Being able to look out over the Caribbean Sea and at Buck Island from our patio or condo windows is beautiful and something we never tire of."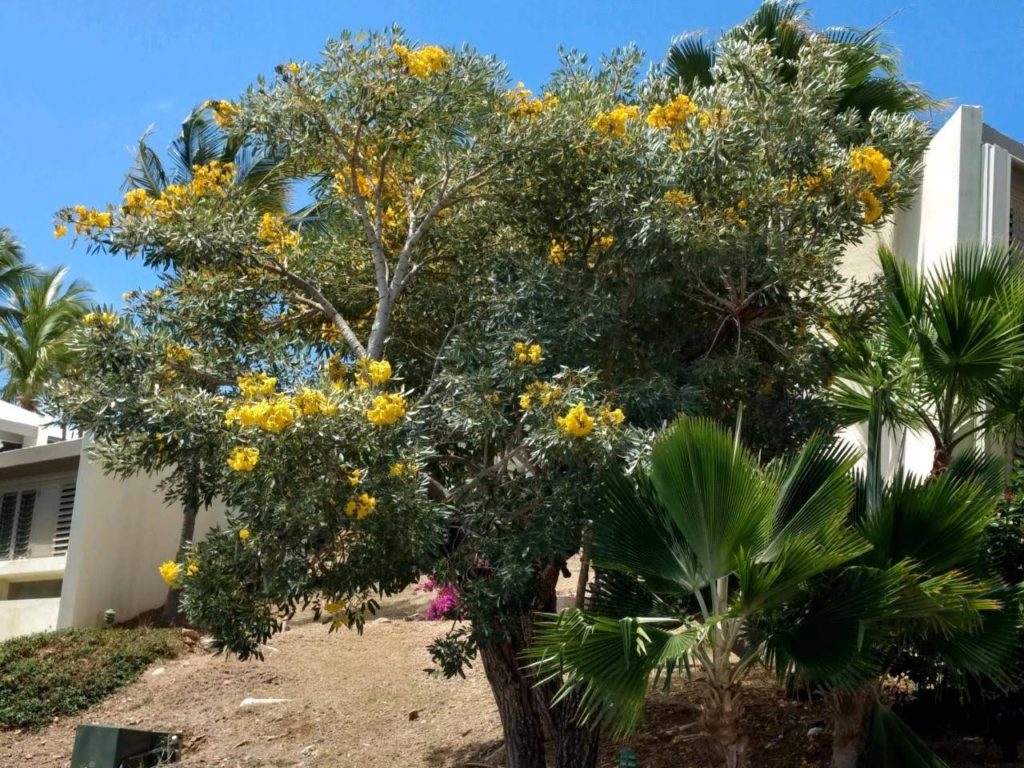 The Cecil's met while both worked for the Commonwealth Edison electric utility, Dave at a power generating station and Kathy in the nuclear division. Dave enjoyed flying and considered the cockpit of a commercial aircraft, but chose to pilot his own personal small plane; he is an amateur HAM radio operator, WB9YSK.
They brought their holiday traditions to St. Croix. "We enjoy decorating at Christmas with a traditional tree and all of the extras. And we really enjoy the Christmas Boat Parade."
Another interesting story of good times shared of their time at The Reef: "We learned to love golf together as a couple." Dave hadn't played golf in 35 years and Kathy had never played!
"I don't know if you can write about this," Dave confessed, "but in the West End rainforest, you can feed pigs beer!" Kathy added, "animal rights activists ensured it is O'Doule's, non-alcoholic beer."
But now Dave and Kathy are grandparents and their retirement focus has changed. It's time for more family activities at home in the Midwest. So it's back to frigid winters and real snow on Christmas.