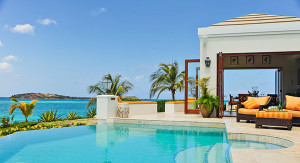 Early this year I had the pleasure of meeting Minneapolis natives Doug and Linda. They were escaping a cold Minnesota winter on beautiful St. Croix with no intentions of looking at homes…until they saw their dream home while lounging at Chenay Bay. Lucky for them, it was on the market – and lucky for me, I was the Realtor!
Here's the story as Linda tells it:
While sitting on the beach at Chenay Bay, I said to Doug, "Now that is a beautiful home!"  I had picked up the real estate magazine and when we went back to our rental, I looked thru the magazine and there was the home!  Doug called David and said we were interested in seeing the home but it would a have to be the following morning as we were flying back to Tortola at noon.  David pulled some strings and we were able to see the home early on the day of our departure.  We fell in love with it immediately and it was hard to curb my enthusiasm!  We flew to Tortola, talking all the way.  We put in an offer shortly after and it was accepted.  We returned in March to have an inspection and meet with the sellers who answered all our questions. We closed early April and moved right in for a week before heading back to Minneapolis.
Doug and Linda owned a home on Tortola, BVI, at the time, but, for many of the reasons others choose the U.S. Virgin Islands, they were planning a change of scenery. With seven grandchildren that they hope will visit often, they wanted to make travel between their island home and the States easier.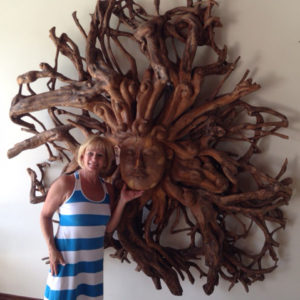 It's hard for them to pick out one single feature of their new island home that they love. "We love the open kitchen and the views of the ocean and Chenay Bay from the windows. We love that the floor to ceiling windows fold back so the home is totally open to the outside.  We also love the home exercise room and the views from it.  But what we love the most is the warm and welcoming feeling you get once you walk thru the front door." Doug and Linda have also been adding some of their own personal touches, including a fabulous piece of art from Sweet Lime.
Doug and Linda appreciate the history surrounding the sugar mills on St. Croix and the preservation of them. They enjoy visiting the Whim Museum and exploring the island. When going out on the town, they love to find fresh fish at one of the many restaurant choices.
They plan to spend much of the winter on island and will rent their home when not here. If you are visiting St. Croix and want to stay at their Green Cay Oasis, be sure to check out their VRBO listing!
Welcome to St. Croix, Doug and Linda!