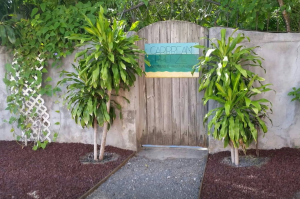 We're thrilled for our clients, Kathy and Randy, who in December celebrated one year as owners of Caribbean Breeze Apartments and Vacation Homes on Prince Street in Frederiksted, walking distance to beaches, dining and nightlife.
Kathy and Randy lived in Denver and had been vacationing on St. Croix for five years when they decided to "get away from the 'rat race' and slow down, enjoy life!" When they first contacted me, their focus was on finding a private home with a rental unit. Then they discovered the value one can get for a multi-unit property and adjusted their search. They planned a visit to the island in May 2014 to find their dream home.
It helps that Kathy and Randy have great vision for a property's potential and a knack for renovations. Since closing in July 2014, they have completely remodeled all of the vacation units, from decorating, new tile, and new kitchens. The outside has been given a face lift and fresh coat of paint, and they have a secure gated courtyard that has been beautiful landscaped with 100+ year old trees and lots of island flowers.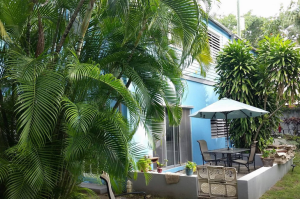 Their long-term vision is to transform the courtyard into an outdoor oasis. They are currently building a pool, and plan to add on an outdoor kitchen/BBQ/dining area and outdoor bathroom.
Kathy says, "We were not looking at starting a business, in fact, we wanted to be semi-retired! But people here say that if the island really wants you, it will give you everything you need to stay! We have been given so much more!"
Caribbean Breeze had their first guests on December 28, 2014. They have 6 vacation/short term apartments, ranging in size from studios, to one-bedrooms and a two bedroom unit. Prices range from $70- $175/night double occupancy during high season, to $60-$120/night during low season.
Check out their listings on airbnb to see how Kathy and Randy turned their dream into a reality: