Welcome Home, Emelyn & Jim!
Last week I had the joy of running into Emelyn and Jim Sayre at the Yacht Club. They bought their house on St. Croix in 2005 and, after renting it, they have finally settled here from Littleton, Colorado.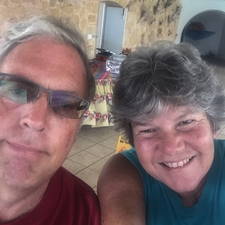 Back in 2005, Em and Jim had just sold a piece of mountain property and were looking for a new investment (one that would meet the requirements of a 1031 Tax Deferred Exchange). They agreed that if they were giving up the beautiful Rocky Mountains, then they wanted a place near the beach. They actually considered places like North and South Carolina, Georgia and Florida, until they learned that the US Virgin Islands was an option. They had been to St. Thomas and St. John, but eliminated both as either too touristy or too expensive. So, they booked flights to St. Croix and started looking online.
Once on island, we hit the ground. On the first day they looked at nine houses. They narrowed it down to three, but quickly decided that there was one in particular that spoke to them. I love to hear Em's story:
At the end of the day, Jim and I agreed that we would revisit 3 of the properties on Tuesday; however, after much discussion over dinner, I called David and told him there truly was only one that we wanted to see again.  David arranged to have the seller present to answer specific questions we had — meeting the owner and hearing his story and experiences on the island was so helpful.  Sometimes, there are other factors (maybe just gut feelings or coincidences) that play in your decision making…..my house in Puerto Rico was pink….this house was pink (we had to paint the exterior last year so it is now yellow).  My home in Virginia was just off Ridge Road….this home was just off Ridge Road….my best friend in high school was Anne Parker….one of the owner's name was Anne Parker Westerfield……

On Wednesday morning, Jim and I went scuba diving and after we arrived back at the marina, we, still in our bathing suits, walked up to David's office and made an offer on the home. By Thursday afternoon we were under contract and by Friday we had completed our inspection and survey! Everything went so smoothly we were able to close that same month.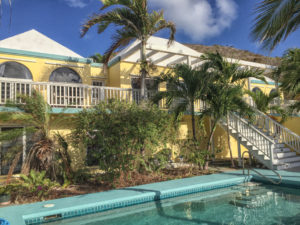 The location and architectural design of their home is what captured their hearts. The design is very Caribbean. They have breathtaking views and a 2-minute walk to the beach.
When Em and Jim bought their house, they knew they wouldn't live here until they retired. Their long-term goal of island living is inspiring:
Purchasing this home gave us a common dream which sustained us through some difficult times.  Our future home in paradise was a vision we both shared.
Jim retired last August and, after a few months of research getting a pet to the island, garage sales, donations, shipping a container, etc., they arrived in December, two days before the Christmas Boat Parade. What a great welcome home!
Their favorite St. Croix foods are the fresh produce they get from Sejah Farms, Crescent Farms, ArtFarm and the Saturday morning farmer's market.
You can still rent their lovely home when visiting St. Croix. Guests can either rent the pool level apartment (queen bed) which has a small kitchen, private bath and entrance or they can rent the upstairs with its  furnished, two bedroom (king and queen beds)/2 bath. Find them on TripAdvisor or airbnb!