I've known Betty Silander for 25 or so years (which must mean we met in our early 20's, right, Betty?!). She and her late husband, John, have a long history with St. Croix and, with Betty's recent purchase of a Christiansted condo, her future is looking pretty nice.
Her story starts in the early 60's on a 2-week Caribbean cruise. She recalls being greeted at every stop "with steel drums, calypso music, and a rum punch." She and John fell in love with the "atmosphere of color, music, rum and the people," and set their hearts on owning a piece of paradise. A few more winters back home in Winnetka, Illinois, a suburb of Chicago, made them more eager than ever.
In the mid-60's they learned of an opportunity to be part of the Queen's Quarters development, so they headed south to check things out. They were also considering Grenada, but decided buying U.S. property was a wiser choice at the time. Ultimately, they choose to purchase their own 5.4 acre oceanview plot of land near Cane Bay with dreams of building a small resort.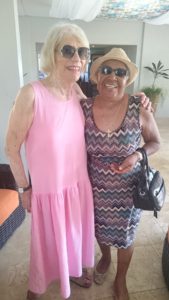 The following Christmas, the Silander family (Betty, John and their four children) spent two weeks at "Diamond Fancy," now the Cane Bay Reef Club, where they met the Walkers, who were in the process of building The Waves at Cane Bay. After the holiday, they returned to the cold and endured more stateside winters, always thinking about their land in the sun.
The 70's brought a move to Dallas and the purchase of a condo in St. Lucia. Unfortunately, the hurricane of 1980 destroyed their condo and, after a visit to check out the damage, they decided not to rebuild. They stopped on St. Croix on their way back to Texas, only to learn that one particular property just happened to be for sale: The Waves at Cane Bay.
The time was right and we were ready for a change in lifestyle, so we bought the property. I had been in the travel business for 13 years and John had been a manufacturer of restaurant equipment, and we felt we knew the hospitality business. We made The Waves into our image, moved to St. Croix and managed the property for 6 great years — 1/83 – 9/89. During that time we met David Fedeles and he stayed a few nights with us over one Christmas.
They were fortunate to sell the property just before Hurricane Hugo in 1989.
And I am so very fortunate that our paths crossed again this year. In Betty's words:
Now I'm back, having seen this beautiful in-town condo that David listed on his monthly email letter. Who could resist? Beautifully decorated by Twila Wilson, I was thrilled to have a piece of St. Croix once again thanks to David's expertise. It is an investment as my home is still Dallas, as well as Michigan in summers. David and I corresponded and it was a pleasure to see him again after a long time lapse. I was also happy to see that St. Croix is pretty much the same charming island we fell in love with so many years ago.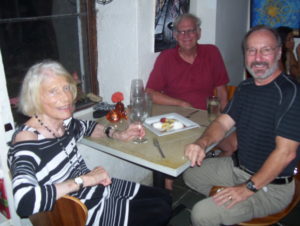 Betty and John used to snorkel every day at around 5pm in front of The Waves. They also loved to find the spots in town with live music, like Jimmy Hamilton at the Bombay Club, or concerts at Estate Whim. During her recent trip to St. Croix for the closing on the condo, she and her sons found some good music at the Holger Danske Hotel restaurant on the boardwalk. She's happy to see some of her favorite activities continuing for others to enjoy.