Bud and Joan Woelfel have thoroughly enjoyed the St. Croix snowbird lifestyle for more than 50 years — with nearly 30 years in their spectacular home that is now for sale.
Joan and I have two sons and I was a school teacher in Massachusetts. Our vacation time was limited to 10 days, so in February 1964, we left winter in Massachusetts to briefly enjoy the warm winter temperatures in Florida. Well, it was colder than normal that year and we had to buy coats to keep warm. I decided then that we needed a more predictable vacation weather.
So the very next year, the Virgin Islands, then specifically St. Croix, became their choice vacation destination.
After teaching for 20 years, Bud launched his successful business in the construction industry. He is quick to say, "I just enjoy what I do." Bud and Joan live in Harwich Port, Cape Cod, Massachusetts, and have enjoyed vacations, then retirement, in winter on St. Croix. During stays on island, the couple would do home tours and Bud was particularly interested in the island construction.

One particular property in Cotton Valley caught their attention. It's structure, having been built with conventional construction, did not survive Hurricane Hugo. But Bud and Joan had a vision to recreate the estate according to the original design, now using substantial, hurricane-resistant construction materials and techniques.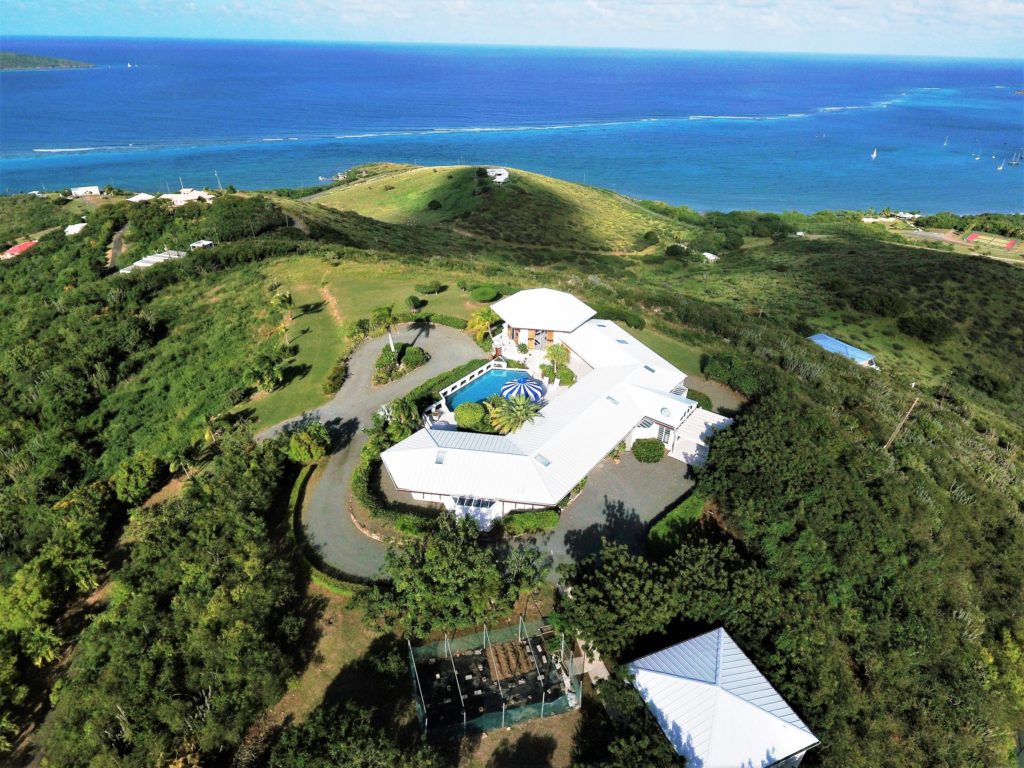 Designed by John Randal McDonald, an architect often compared to Frank Lloyd Wright, this estate embraces the importance of a natural setting. McDonald encouraged homeowners to be aware of the elegance of the natural environment. At 600 feet above sea level, the intentional design maximizes the stunning St. Croix views. Valance lighting accents the construction elegance both inside and outside. "At completion, we invited Mr. McDonald to visit and see his design return to life. He cried as he witnessed our appreciation for his creation."

Just like he had placed the order yesterday, Bud shared, "There is 15,000 linear feet of Redwood, 300 cubic yards of concrete and 30,000 lbs. of rebar." He does enjoy construction and is a strong believer in preventative maintenance which he personally continues to this day.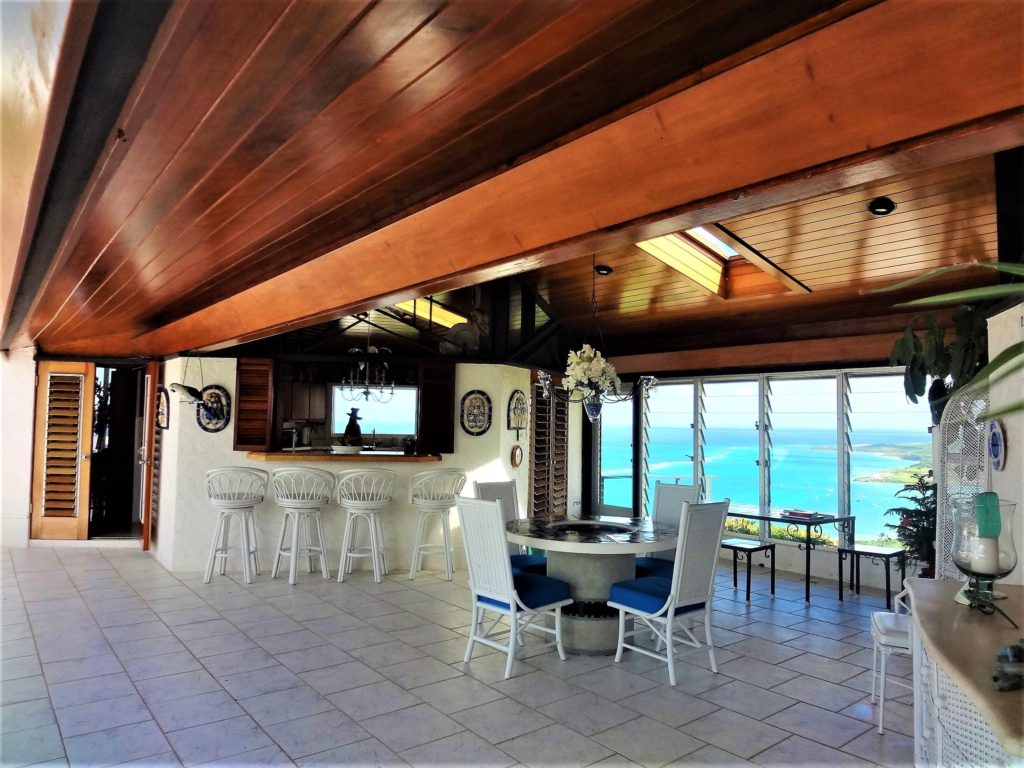 The Woelfel's have hosted up to 80 people for dinner. Bud describes his wife as a true hostess. "She had this down to an art-form, with all that was needed from tables and chairs to dinnerware and silverware." Dining can evolve inside and outside, and, consistent with what first brought them to St. Croix, the weather is highly predictable. "We could plan a dinner for next month and be reasonably certain the weather would be as expected."
I remember my 50th birthday celebration. We invited 26 friends from Massachusetts and it lasted 2 weeks! Dinner parties among friends are common on St. Croix and we used to average about two dinner parties here a week.
Bud and Joan enjoy cruises and plan to continue the snowbird lifestyle, yet leave the hosting to others. We wish them well as they shift into yet another season of their lives! And we look forward to meeting the next owners who will appreciate this knoll-top masterpiece.