National Geographic photographer, Brian Skerry, described his experience in the waters around Buck Island as, "you feel like you're in a storybook." We believe Skerry is more than a photographer — he is a storyteller and has captured the very best of St. Croix. His breathtaking National Geographic video takes you underwater to the incredible elkhorn coral and up to the shores where tiny sea turtles emerge from the sand.
Skerry reminds us that there are few places in U.S. waters that are protected. Buck Island is America's first protected underwater monument, thanks to President Kennedy in 1961. He says he feels privileged to be able to see it — and what a treat for the rest of us to see this treasure captured by such a prestigious publication as National Geographic.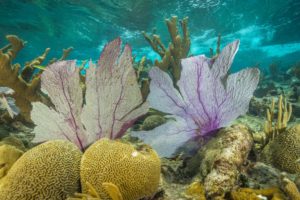 The photographer also mentioned the National Park Service Centennial, which was on August 25, 2016. Such an interesting tie-in to the celebration of the upcoming USVI centennial celebration of Transfer Day on March 31, 2017.
A wonderful feature story of Why It's Important to Save Our Seas' Last Pristine Places is in the February issue of National Geographic, including a lengthy history of Buck Island and stunning photography. We encourage you to read it when you have a chance and do what you can to help protect the natural beauty of St. Croix!