Standby (Backup) Power Systems provide electric power during Virgin Islands Water and Power Authority (WAPA) outages. Systems range from stationary (permanently installed), automatic, whole-house systems to portable, point-of-use generators and inverter generator equipment to just power selected small appliances, or devices directly. As Dave Schnur sings it, we're talkin' 'bout My Generator.
Application
Rating
120/240 volts AC
Cost
Fuel @ 50% load
Stationary – whole house or select circuits – licensed electrician
– up to 22 kW+
-automatic, or manual
-with electric start option
$7,000-$10,000
-2-1/2 gal/hr LP
-options: gasoline, LP, or diesel
Portable – direct or select wired circuits – licensed electrician
-5.5 kW direct power
-range 3.5 kW-8 kW+
-manual with
-electric start option
$700-$1,000 DIY, plus electrician for wired circuits
-¾ gal/hr gasoline
-options: gasoline, or diesel
Portable inverter generator – direct – DIY
-120 volts AC, manual
-1000 watts
-range 1 kW – 2 kW

$400

7 hrs+/gal gasoline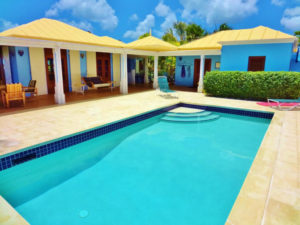 Stationary systems can be completely automatic and sized to power all of your electric needs. The system constantly monitors the WAPA utility power, senses when it is lost, automatically starts the engine and switches your house from utility to generator, all within a few seconds. Once the utility power is restored, the automatic standby system switches loads back to utility power.
Portable generators are a solution for a more mid-range load and price tag. Systems can be sized and installed to power selected, wired circuits and can be manually operated. This size range could provide stand-by power for lights, computer, television, and even refrigerator, washer and cooking. Air conditioning and electric appliances are possible with proper planning.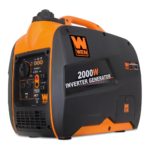 Inverter generators and battery inverters are more DIY for small load applications. Portable generators can power tools and small appliances, whereas inverter generators and battery inverters are limited to electronic devices, lights, televisions, and computers. Inverter generators often have USB charger ports.
To determine the generator size you need, list the watts for all electric equipment that will be connected, like refrigerator, range, microwave, washer, dryer, air conditioning, electric water heater, lights, etc. General online resources will help, but try to use actual nameplate ratings from your particular electronics. Motor loads from your refrigerator, washer, A/C, etc. require more starting power so double these watts.
These systems are commonly fueled by gasoline or propane, but can also be diesel. Remember that these fuels are highly flammable and hazardous. Your generator must be installed in a well-ventilated space, outside, away from combustible materials.
Generator tips:
Routinely test and service your standby equipment.
Gas has ~12-month storage life. Keep fresh gasoline stored.
Things to consider when placing your generator: service access, some engine noise while running, fuel source, potential for weather and flooding damage, and wind direction to keep engine exhaust directed away from open windows.