This house simply creates memories"
Brian and Cathy Keane have owned their Cotton Valley beachfront home for nearly 15 years — and have created an endless number of memories, from family and friends birthdays to weddings and anniversaries to fantastic family gatherings.
Originally from Dublin, Ireland, they moved to the States 32 years ago with the intention of moving back to Ireland within five years. That never happened! They now live in Villanova, PA, and love it, "but not during the winter!"
The Keane's have four grown children — three boys and one girl (also the youngest, "and, yes, she is our princess," Brian adds). Some of their favorite memories in their home involved their kids. One son proposed to his girlfriend on their beach. And last November, their daughter and her boyfriends surprised them by flying from their home in Hawaii to join the family for Thanksgiving.
With a dream of having a vacation home and a place to retire, Brian and Cathy searched for the perfect location for years.
We visited an exhaustive number of Islands and kept coming back to St. Croix. To our minds it offers the best of everything – variety of quiet beaches, a rainforest, great food options (we are foodies!), cultural diversity and easy access to the mainland."
They truly found a gem in Cotton Valley. Beachfront, nearby restaurants, and easy to hop on East End Road to explore all that St. Croix has to offer. While they are selling Paradise Found, they are searching for something smaller on St. Croix.
Paradise Found has been equal parts fun and hard work for the Keane's. "There is almost no part of our home that has not been improved upon." The main house has undergone major renovation, including a new kitchen, new master bedroom with state-of-the-art en suite bathroom, new bathrooms, hurricane-proof doors and windows throughout, and new air conditioning. Meanwhile, the guest house has a new balcony, and the property features elevated pergolas, a new irrigation system, and lush landscaping.
We asked what has been the most challenging renovation and the most fun renovation. Cathy's answer, all in one: the kitchen! We imagine it's the part that gets the most use, too, with all of that entertaining!
But their favorite part of their home has nothing to do with what's inside. Their favorite feature…
The Caribbean ocean at our doorstep, the ability to snorkel or scuba dive right off our beach, as well as paddle-board. Lying in the hammock between the palm trees and unobstructed views of Buck Island. We really love sitting at our pool with a glass of wine looking out at the sailboats and catamarans gliding past!"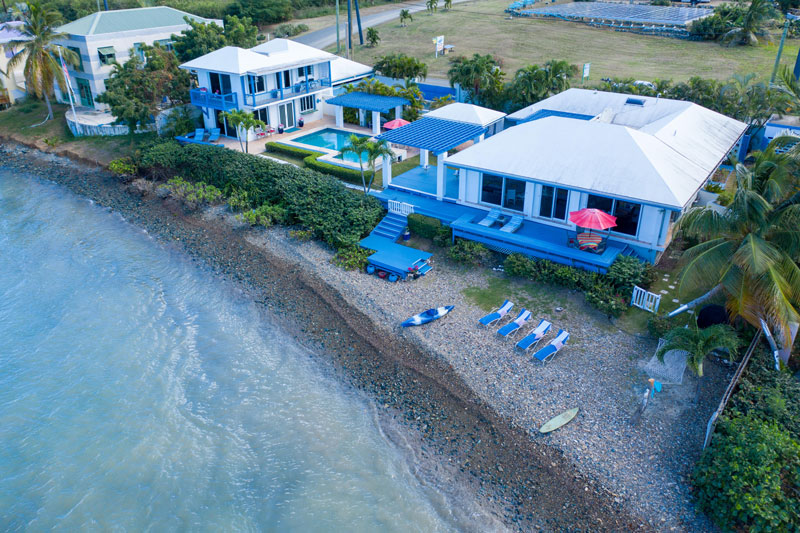 Top 7 Favorite Things To Do On St. Croix
The Keane's love the outdoors and all the things St. Croix has to offer, including:
Scuba Diving
Snorkeling
Paddle boarding
Kayaking
Hiking (especially up Goat Hill and between Jack's and Isaac's Bays)
Sailing
Eating
St. Croix is the birthplace of vertical farming and and we truly enjoy eating local, healthy, and organic foods and produce. The island offers a wide array of cuisines – and our mission is to savor them all!"
The Keane's came to Team Fedeles on the recommendation of several friends and other professionals, and we are so grateful! Upon meeting, we discovered our Philly connection — David being from the same area outside of Philadelphia as Brian and Cathy. Not only do we share favorite sports teams and experiences, we connect with our similar sense of humor and large look on life.
Cheers to the next chapter of yours, Brian and Cathy! Another family will be very lucky to make their own memories in your beautiful St. Croix home.