Our very own Steph Schoyer and her artist father, Toby Schoyer, are featured in the December and January issues of St. Croix This Week. Steph's pride in her father's artistic ability is evident throughout the Island Art interview on pages 36 and 59 in the December issue. We especially enjoyed reading about how her father influenced her skill at recognizing the perfect light for her photography.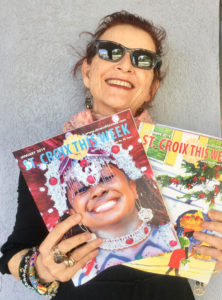 …one of my favorite memories was when he drove me to school in the morning and would point out the different ways the light changed the landscape.
Steph is such a talented photographer. Her work will be exhibited at Cafe Christine in January and February 2019. If you haven't met her or seen her work yet, consider stopping in during Art Thursday or for lunch one day. Of course, we get to see her excellent photographer's eye in action when she shoots our new listings.
Another favorite part of this month's article is the moment when Steph discovered her passion for photography.
I wanted to paint like Toby and loved doing it and then one day I picked up a camera and as soon as I heard the shutter release I felt something shift and knew I had found my niche.

We're so lucky that Steph also loves St. Croix and believes that "introducing it to new buyers is a wonderful way to spend the day!"
If you'd like to check out Steph's handiwork beyond her masterful real estate photography, visit www.schoyer.com. And definitely be sure to pick up this month's and next of St. Croix This Week!