Season's Greetings from St. Croix, U.S. Virgin Islands!

The U.S. Virgin Islands was just named the Destination of the Year in the Caribbean Journal Caribbean Travel Awards 2021!

For anyone planning to travel to St. Croix in the coming month, be sure to visit the USVI COVID-19 Travel Screening Portal. This will give you all the information you need to travel to the U.S. Virgin Islands. American Airlines recently started offering at-home testing through LetsGetChecked. We look forward to seeing you and would be happy to schedule a COVID-safe home showing if you're in the market for St. Croix real estate!

This Fall, Governor Bryan announced his USVI Vision 2040 economic development strategy. Vision 2040 is an interactive, participatory process to produce a long-term economic strategy and action plan that positions the U.S. Virgin Islands as a vibrant, desirable place to live, work, and visit, and as a prosperous business location that is competitive based on its abilities to develop, retain, and attract a skilled workforce with creativity and imagination. There are many opportunities to share your ideas, priorities, and concerns for the future economy of the U.S. Virgin Islands, so be sure to participate in a virtual open house or submit comments.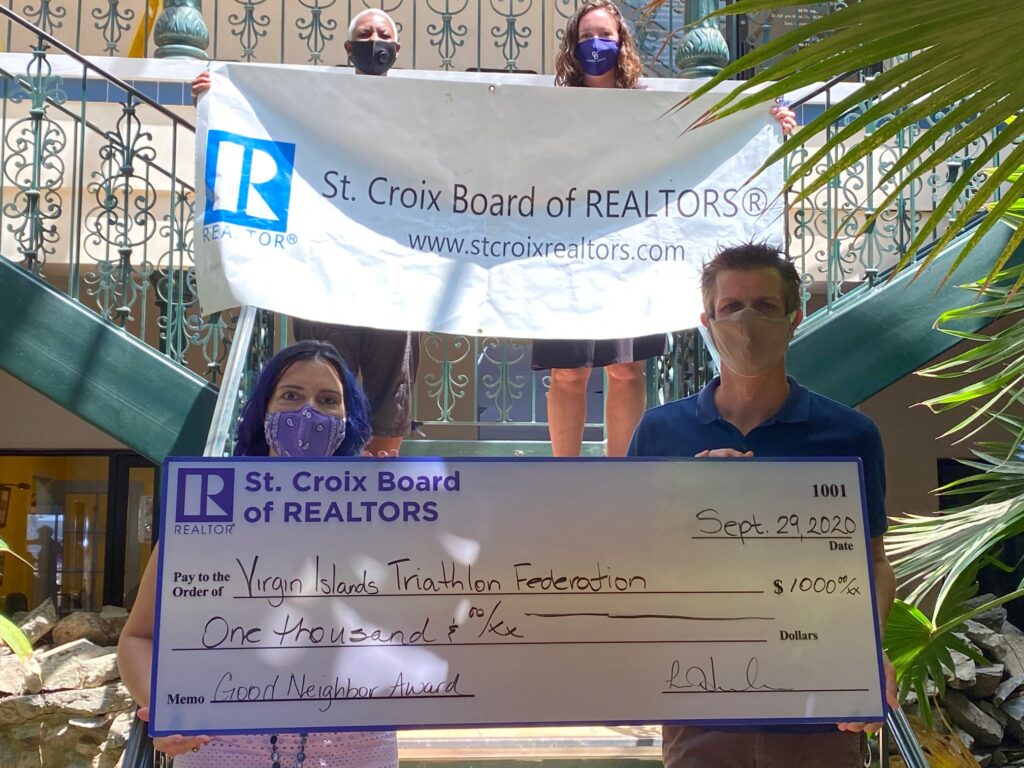 In September, our own Stephen Swanton received the Good Neighbor Award from the St. Croix Board of Realtors. Stephen was recognized for his work with Virgin Islands Triathlon Federation. He was awarded $1,000 to support VITF's mission and Coldwell Banker Schmidt Family of Companies matched the donation through their Schmidt Community Fund. As many of your know, Stephen exhibits the same focus and eye toward success in real estate as he does in competition. Team Fedeles is lucky to have him on board! Learn more about the Good Neighbor Award and Stephen's work with VITF.

As a member of Ha'Penny Bay Beach Club, I'm excited to share our holiday offering of a one-year membership for half price! Become a member of The Club for $650 per person and no initiation fee. Club benefits include monthly lunches, dinners and brunches, use of The Club for private events, holiday and special events, use of the facilities when visiting Ha'Penny Beach, and more. Of course, for now activities and events are somewhat limited due to COVID; however, our open-air dining room is the perfect place to spend socially distanced time with new and old friends!

The St. Croix real estate market is very active right now. Congratulations to our Sellers of Romney Point and Meggie Hill! If you have been on the fence about listing, now is the time! In fact, according to the latest Market Watch, houses sold for 28% more and condos sold for 25% more as compared to the same period last year. Contact info@fedeles.com for an assessment of your property and to discuss how we can assist, whether to sell or to buy…it is a great time on both accounts!

Wishing you many joys this holiday season and a prosperous 2021!

Warm regards,
Team Fedeles