Perhaps the most well-known property on St. Croix, the Contessa's Castle is now on the market for a mere $15 million.
Countess Nadia de Navarro-Farber was born to a noble family in Bulgaria. She was a musical comedy star that charmed movie-goers in Bulgaria and Hungary prior to her first marriage to a Spanish Count. After his death, she moved to New York where she was well-known as a philanthropist. Her second husband was a developer and together they built more than 30,000 homes on Long Island. She continued managing the residential and commercial real estate business on Long Island after being widowed a second time. She is remembered for generous donations to the Mather Hospital and to the community — in 1991 the Contessa Nadia Farber Emergency Pavilion was dedicated in appreciation of her generosity.
The Contessa personally designed the Moorish-style castle on St. Croix's East End. She spent four months a year on our beautiful island before her death in 2014. She has been described as
an individual who through hard work, perseverance and dedication improves the quality of life for members of the local community as well as the world community while displaying grace, determination, lending motivation and enthusiasm to all.
Her fairytale estate is set on 102 acres with a gatekeepers cottage, a swimming pool, lush landscaping, beachfront property, a private pier, pristine valleys and hillsides, and stunning views in all directions. If you've ever driven east toward Point Udall, you're surely gazed in awe at the Castle on the hill.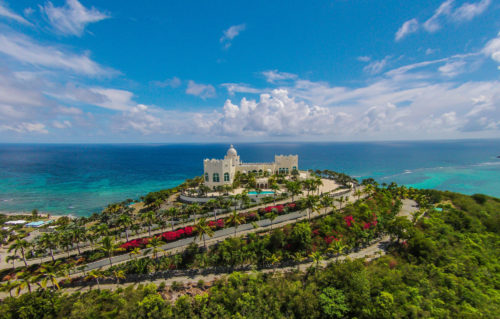 Save