We've certainly had our fair share of rain this spring. The day before the 28th running of the St. Croix Triathlon, we wondered if they would have to swim the entire race! Now our cisterns are full and the hillsides are green. The frangipani are in full bloom and mango trees are promising a fruitful harvest.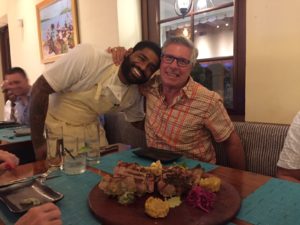 The much-anticipated fine dining establishment, balter, has opened in Christiansted. In a centuries-old building, the restaurant features elegant open-air seating, a courtyard with bar, a small garden to supply the restaurant's kitchen, and a stage. It was a pleasure to get a visit from Executive Chef and Owner, Digby Stridiron, during dinner last weekend!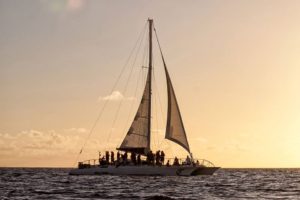 The Frederiksted Pier will have a short break from cruise ship traffic this summer (to resume in August). Meahwhile Lyric Sails has taken to the land and sea. Visit their storefront on King street or web site to book a Sunset Sails, Full Moon Sails, Stargazing Sails, Special Musical/Fine-Dining Events, or tranquil Yoga/Meditation cruise.
It's no surprise that our beautiful island is featured on yet another list: Best No-Passport-Required Vacations for any Budget. Click around a little on that site and you'll also see St. Croix listed as one of the top 10 best islands to live on.
Speaking of making the move, last week I had the joy of running into Emelyn and Jim Sayre at the Yacht Club. They bought their house on St. Croix in 2005 and, after renting it, they have finally settled here from Littleton, Colorado. Welcome Home, Em and Jim!
The real estate market has been active with home buyers on St. Croix. If you have been considering selling, now might be a good time to look more closely at your options. Give us a call to talk it through!
Whether for a visit or to call it home, it's a great time to be on St. Croix. And remember, we're here if you have any questions at all!
Warm regards,
The Fedeles Team