As I write this, it's a blue-skied, sunny day with a glorious ocean breeze.
House sales are up some 20% compared to last year (see the St. Croix Real Estate Market Watch chart below). We have a real need for salable residential inventory, particularly in the $400,000-$800,000 price range. If you have been considering selling, but were not quite ready to "pull the trigger," the time is right to give us a call or an email so that we can provide a market analysis for you, and discuss the opportunity to sell your home now. We have many buyers in the marketplace looking to buy for their own "piece of paradise" so let us put it on the market for you!

Typically, we call this "slow" season on St. Croix; however, I've been thrilled to hear from many local businesses that they're keeping busy. Old and new activities are aplenty – from paddle board lessons to paddle board yoga, guided nature hikes to snorkel clinics. GoToStCroix.com recently featured all of the great golf on island. Restaurants are staying busy, though it's nice to catch up with local owners when reservations aren't needed. As I mentioned above, the real estate market is up. It's great to know that there are so many reasons that make our island a vacation destination or even home.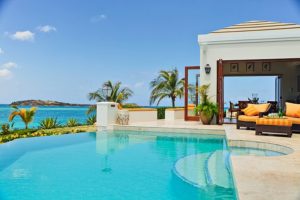 Minneapolis natives, Doug and Linda, did both when they bought their Green Cay Oasis earlier this year. Choosing a vacation spot where it's easy for their seven grandchildren to visit is just one of many reasons they now own their dream home on St. Croix.
We'll be featured on HGTV's Beachfront Bargain Hunt and FYI Network's Waterfront House Hunting in the coming weeks. Watch as Kyle, Ania and their two kids find their beachfront dream home and Chris, Renee and their fur family look for the perfect waterfront house.
Sure, it may be warm wherever you are, but it's always a good time to visit the Caribbean!
Warm regards,
The Fedeles Team