I love Greek food and I'm fascinated by iguanas. What do the two have in common? Apparently iguanas also love Greek food!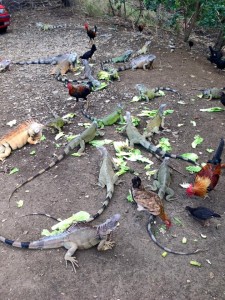 Whether you've lived on St. Croix your entire life, you've just made the move, or you're planning a visit, feeding the iguanas at the Pickled Greek is one of the best kept secrets for fun on the island. At 10:30 every morning (except Sunday), join a staff member as they feed last night's scraps to resident iguanas.
At the sound of the banging buckets, iguanas drop from trees and scurry up the hill for scraps of tomato, lettuce, cucumbers, and lots of other tasty morsels. Of course, then there's Randy, the favorite iguana, who sometimes gets a fresh salad.
You can stick around after the feeding frenzy for lunch – the Pickled Greek opens at 11am Wednesday through Saturday. And Saturday is $5 Gyro Night.
I do wonder where this iguana food comes from. I never leave a scrap on my plate!